Enhance Your Brand Experience With Bespoke Packaging
Posted By Badges Plus | 11.10.2021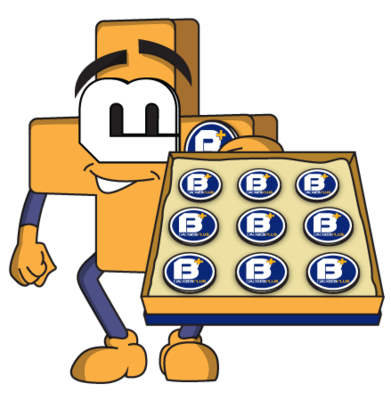 Whether you are selling charity badges or want to create a display for promotional products, bespoke packaging can make the most of your products and displays with a one-of-a-kind look that stands out from the competition. When it comes to bespoke packaging for businesses, getting it on brand is key. Here is our guide to bespoke packaging from Badges Plus and how you can make it work for you.
Why Use Bespoke Packaging?
If you are looking for a way to make your brand stand out at events or product sales, branded packaging is the perfect tool. By creating branded boxes your brand will be visible right from the start. Custom boxes with logos can create a professional image whilst promoting your brand.
How Can Bespoke Packaging Help Promote My Brand?
If you are looking for ways to promote your brand with ease, custom printed packaging is ideal. By using your brand and logo on boxes housing promotional products for example, potential customers can see from a distance who you are whether you are setting up a display or even just transporting products to a venue.
If you are a charity looking to raise money from the sale of badges, wristbands or other items, a branded box can share your charity's message with information about what you are raising money for. Branded boxes can even suggest donation amounts as well as showing the types of charity products on sale. Bespoke packaging adds a sense of fun to your products, whatever your business or organisation types and will get your creative juices flowing with design ideas.
What Types of Custom Packages Are There?
When it comes to branded packaging, there are a wealth of options to choose from. At Badges Plus, we have created branded donation boxes, custom backing cards and more to help our customers spread word of their brand and messaging.
One of our most popular bespoke branded packaging types is our branded countertop displays. These are ideal for events where quick information for those passing is important and for shop tills where custom charity boxes are the perfect way to get the attention of those completing their shop.
If you will be selling custom badges, our bespoke branded backing cards are a great addition. These can feature your company or organisation's logo and branding with any additional information you require and add a nice finishing touch. Our backing cards have been used for everything from official merchandise for sale to charity badges and event badges.
As part of our bespoke medal and awards service, we can create high-quality branded boxes for presentation to make the occasion even more memorable with a keepsake that does justice to the award.
Bespoke Packaging for Every Occasion
Whether you are looking for bespoke cardboard boxes or custom printed packaging to display badges, awards and more, our expert team is here to help. We can work with you to create a bespoke design that works for your organisation through our in-house design team. Your finished bespoke packaging will be one-of-a-kind using only the highest-quality materials.
To find out more about our bespoke packaging services, take a look at our service page or contact our team to find out more.
Back To Blog