Our School Subject Badge Range
Posted By Badges Plus | 16.10.2020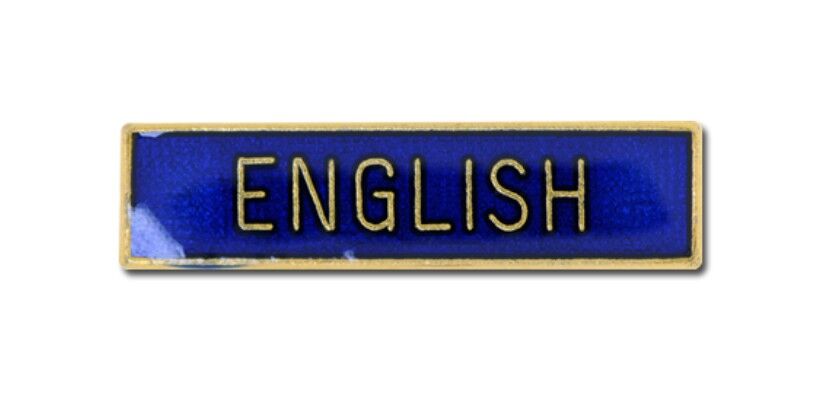 When it comes to buying badges for your school, the team here at Badges Plus know how important it is to get it right first time. We know that you are looking for a hard-wearing product that is low on cost to get your students engaged with their subjects. Our range of school subject pin badges is designed to include everything you need for your school ambassador badges for a range of subjects. As part of our collection, we provide school bar badges for a variety of functions, as well as more decorative school pin badges in a range of shapes.
School Bar Badges for Subjects
Whether you are looking for badges for art or school badges for languages, our range of school bar badges for subjects from our subjects collection has what you need. We are able to provide metal school badges in a choice of colours. So, if you have subject-specific colours at your school, want to keep your school subject badges in-keeping with the school's colours or are looking to match subject ambassador badges to house colours, we have the perfect fit.
Creative Subject Badges
If you are on the lookout for school subject badges for creative subjects, our range of art, drama, music badges and more are an ideal cost-effective badge option for your school. Although we aim to offer plenty of choices when it comes to our badges, if you can't find the creative subject you are looking for, just let a member of our team know and we can look at creating something bespoke for your school.
Shaped School Badges
Looking for something a bit different to the usual school bar badges for your school subjects? Our shaped badges for schools are available for a range of subjects and offer a number of fun elements to make your school pin badges stand out. From our art pallet badges to our drama mask badges, there are a number of options to choose from. Alternatively, if you are looking for something really one-of-a-kind for your school, why not take a look at designing your own bespoke school badges for your school's subjects?
Extra-Curricular Subject School Badges
We know that extra-curricular subjects and activities are as important for childhood development and happiness as their other subjects. If you are looking for a way to reward students for taking part in extra activities, our collection of badges can't be beaten. Whether you are looking for choir badges for schools, school orchestra badges, chess badges, football badges or any other type of school activity badges, we have something for you.
Religious Badges for Schools
If your school puts religion at its heart, you may be looking for a badge that reflects that. Whether you are looking for something for your staff or students to wear with pride, our collection has something to offer. As part of our main school badge collection, we create gold cross badges, silver cross badges and bronze cross badges for purchase. However, we are also able to create badges for several different denominations as part of our bespoke range so please do get in touch with our team to find out more.
Looking for more school badges? Why not take a look at our full range of school badges here for everything from school council badges and school prefect badges to merit badges and bookworm badges to encourage learning and development in your school. Can't see what you are looking for? Get in touch with the team here at Badges Plus to find out more about what we can offer your school including our bespoke school badge range and free design service.
Back To Blog