Personalised Cufflinks From Badges Plus
Posted By Badges Plus | 22.03.2022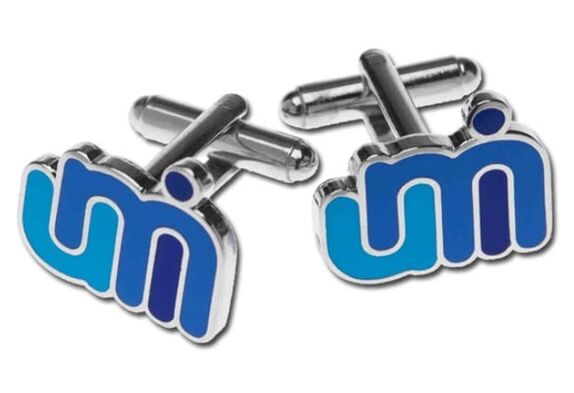 At Badges Plus we create personalised cufflinks that add a sophisticated finishing touch. Often reserved for special occasions, a set of custom cufflinks can enhance personal style and uniqueness. Cufflinks are a functional piece of jewellery that fastens a shirt cuff closed. They represent a style and elegance that goes unspoken in both a corporate and a personal setting. They can be personalised and turned into the most unique gift. The customised cufflinks we craft at Badges Plus are a popular choice of gift for that extra special wearer.
A Brief History Of Custom Cufflinks
Dating back to the 17th century, early cufflinks were used to replace the ribbons and ties that held a man's sleeve cuff together. The first cufflinks had small chains attached to the back of gold or silver buttons and were made popular by King Charles II. At this time the first custom made cufflinks appeared as they were often created to commemorate special events, much like they are today.
By the 19th century, cufflinks started to be worn by the upper and middle classes as they became mass-produced. Customised cufflinks grew in popularity and it was common for precious and semi-precious gemstones to be used as embellishments. Today, cufflinks still symbolise practical style and are enjoyed by men and women. Monogrammed cufflinks are as popular as ever. Not just for black-tie events and similar formal gatherings, nowadays, wearing custom cufflinks is seen as a subtle way to accentuate individual style.
Customise Your Style With Engraved Cufflinks
Cufflinks are small accessories that can make a big statement. Personalised engraved cufflinks not only enhance your style but can also commemorate any occasion or event worth remembering. Perhaps the event is a wedding and you're looking for personalised father of the bride cufflinks or cufflinks for ushers. Maybe it's a corporate event, and you'd like your sales team to subtly represent the company. Matching custom cufflinks, sporting the company logo would be a unique and way to display a brand. Here at Badges Plus, we offer an affordable range of styles.
How We Create Custom Engraved Cufflinks
At Badges Plus we are the leading manufacturer of high-quality personalised cufflinks in the UK. The customisation process is done online in a few easy steps.
Select the shape and colour of your cufflink. You can choose either circular or square, gold or silver

Upload an image or text of your choice.

We use laser engraving for precision

We have a turnaround time of around 3 weeks to create your custom cufflinks.
Our Customised Cufflinks
We offer a choice of square or circular cufflinks, available in two metals, gold and silver. Personalised silver cufflinks are a popular choice with our clients. When you've selected your shape, it's time to upload your design. Our advanced laser etching machine means we can engrave cufflinks with company logos, team logos, memorable dates, initials and personal messages, all done with precision. We can even engrave images into your customised cufflinks to create the ultimate bespoke gift. The result is a durable mark that won't fade over time so your memories will last.
We pride ourselves on our fast turnaround time and aim to have your design custom engraved and delivered to your door within 3 weeks. This commitment to service has helped us to achieve a reputation for superior service.
If you would like to know more about our bespoke cufflinks, contact us now on 0121 236 1612 and a member of the Badges Plus team will be happy to answer any questions.
Alternatively, you can upload your chosen design and begin the process of creating custom cufflinks here.
Back To Blog