5 Fun Ways to Display Pin Badges from Badges Plus
Posted By Badges Plus | 13.03.2023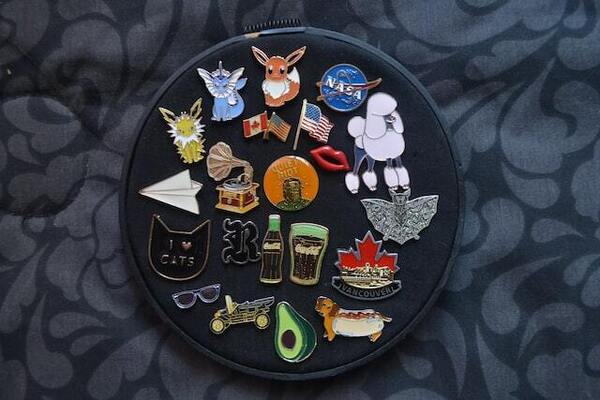 Pin badges are still a popular way to show your hobbies, interests and achievements to the world. With so many cute, colourful and fun pin badge designs around, the best kind of pin badge is one that is on display for all to admire.
Whether you've amassed a large collection of pin badges or you just have a handful of bespoke badges you may ask yourself "what is the best way to display pin badges?" Well, ask no more because here at Badges Plus we know all things pin badge related and we've gathered five of our favourite pin badge display ideas that will show off your collection in style.
Jazz up a Jacket with Lapel Pin Badges
Why not make a denim jacket even cooler by adding some of your favourite jacket pins to the lapel? You can bring this traditional way of wearing enamel pins into the 21st century by customising the lapels of a leather jacket or blazer with cute pin badges that scream personality.
Wear one standout badge or group them together, either way, you can add fun to your outfit as well as display your badge collection.
Stay Ahead of the Crowd with Hat Badges
From baseball cap badges to badges on beanies and fedoras, most types of headgear make great places to display things like football pin badges or any kind of small badges. With this type of badge display, less is more and you'll want to avoid over-cluttering your hat. Stick to one or two statement pin badges on the front, back or sides of the hat so you can avoid overwhelming the look.
Make Your Own Pin Badge Wall Display
If you're up for a bit of DIY, why not create your own embroidery hoop pin display? All you'll need is a blank embroidery hoop and your pin badge collection. The size of the embroidery hoop you choose will depend on how big your badge collection is. Arrange them as you see fit and simply hang the hoop for a quick and easy pin badge wall display. If you'd prefer to buy ready-made, you can often find pin badge banners or pin badge flags on Etsy in a size to suit your needs.
Make Your Collection Portable with Bag Pin Badges
Pin badges for bags mean your collection goes wherever you do. Whether you carry a tote bag, a backpack or a laptop case, your badge-laden bag is bound to become a conversation starter. You can add badges to the straps, pockets and body of the bag depending on its size. If you've got a vast amount of badges, why not put them on multiple bags? This way you can always travel with your pin badge collection.
Create a custom Pin Badge Display Case
You might want to showcase your favourite enamel pin badges in your home on a shelf or in a display cabinet. For this DIY enamel pin display, you can use a "shadow box" to create a pin badge board. Shadow boxes are similar to picture frames but are more like framed boxes where you can display 3D objects. This type of pin badge display case is easy to make and results in a case custom-made to fit your collection of badges. In your display, you can colour coordinate your badges or display them by type or simply randomise your pin badges to make your collection an interesting focal point in the room.
Boost your Collection of Bespoke Pin Badges
Got room for one more pin badge? Of course, you do! With all of these suggestions about how to store pin badges, you may be thinking of adding a few more badges to your collection. If so, why not browse our selection of pin badges?

Badges Plus has been designing and manufacturing a wide range of badges for many years and we offer a bespoke pin badge service so you can create your own badge that reflects your character. Contact one of our friendly staff team members for more information about our bespoke badges or call us on 0121 236 1612.
Back To Blog