Benefits of Using Key Card Technology
Posted By Badges Plus | 06.10.2017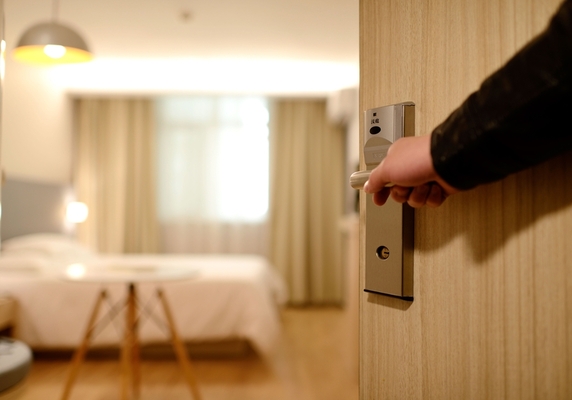 Key card technology is an extremely simple yet practical locking system that adds a modern twist to any organisation. Key card systems work by activating the swipe keys at a main central PC or laptop and programming the individual keys to open certain doors, meaning each individual key card can be granted different access permissions.
The benefits of using card access door locks in your establishment are extensive, so we have picked five of the main reasons why you should make the switch:
1.Swipe Card Locks are Cost-Effective
The equipment needed to fully implement a key card door lock system throughout your organisation is pretty basic and once you have it, you have it! You will need a central PC or laptop system to programme and control permissions, key card readers on the necessary doors and the cards themselves. You think why pay the initial outlay of installing the network when you already have traditional locks in operation? Electronic key cards don't require maintenance that traditional locks require and you will save a great deal on key cutting for new staff members and also if various rooms have different access, you will either need to supply staff members with multiple keys or a number of master keys which can run up a large bill.
2.Don't Worry About a Lost or Stolen Key
Cost-effectiveness brings us nicely to our next point; there is no need to panic when an employee or guest loses a key or one lands in the wrong hands. Locksmiths charge serious amounts to change locks and you may need to do this process for a multitude of doors to guarantee safety. The solution for a lost or stolen key with electronic key cards is painless and cheap (free if you already have spare cards at the ready). You simply use your central system to deny all privileges on the missing card and programme a new one; it's as easy as that!
3.You Can Monitor Who is Going Where
There are some instances where you might need to know who has entered a certain room and exactly when, card access door lock networks possess the technology to produce reports to show which staff or guests entered which room and at what time. If you just need to focus on one specific room, you can also produce a report for this.
4.Key Cards can Double up as a Marketing Tool
Swipe keys provide an extra layer of marketing material that you might not have already thought of. Badges Plus will print your company logo, business name and contact information onto your key cards and any other information or images you might deem necessary, making them an easy way to advertise your business or services. Hotel key cards can also act as an handy way for your guests to find out key information about your establishment, including an advertisement of any sister hotels you might have, services within the hotel such as spas or salons etc. It is even a convenient way to display meal times within the hotel.
5.Make Your Employees or Guests Feel Safe
Key card door locks provide extra security for staff or guest for a wide number of reasons, so we have selected just a few to list.
Key card readers cannot be picked in the way the majority of traditional locks can
You can disable swipe keys IMMEDIATELY when lost or stolen
Using the central computer system, you can block access to every door in the building
Employees cannot give out a code to the door for convenience
Being able to track room access is a great security measure
You can programme electronic key cards for a limited time period only
You can lock or unlock the building using a timed system
Badges Plus design and manufacture all of our key cards in the UK at our Birmingham premise. We have produced swipe keys for use in hospitals, schools and large organisations; however we most commonly create hotel key cards for establishments around the world.
Call us today on 0121 236 1612 so we can begin designing high-quality electronic key cards that will heighten security, reduce costings and even aid your marketing!
Back To Blog