Celebrating the Queen's Platinum Jubilee 2022
Posted By Badges Plus | 22.02.2022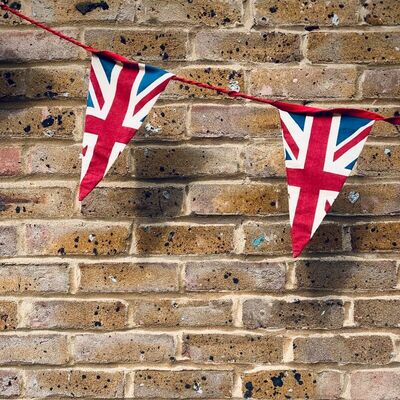 2022 is the year of the Queen's Platinum Jubilee and there are plenty of ways to celebrate. Whether you are planning on getting together with neighbours for a Big Lunch or planning a school Platinum Jubilee event, we've got all the information you need to get your event off to a shining start.
What is the Queen's Platinum Jubilee?
2022 marks 70 years since Queen Elizabeth II became monarch to the United Kingdom, the Realms and the Commonwealth. The Queen is the first monarch in history to reach such a milestone with Queen Victoria, the second longest-reigning monarch reigning for 63 years.
When is the Queen's Platinum Jubilee 2022?
The Queen's Jubilee Celebrations will be held from Thursday 2nd June to Sunday 5th June 2022. Although the queen officially become the first British monarch to celebrate a Platinum Jubilee on 6th February, the celebrations and Platinum Jubilee Bank Holiday will coincide with the Queen's official birthday. The UK will celebrate a four-day bank holiday weekend with plenty of festivities to get the nation involved.
How to Celebrate the Queen's Platinum Jubilee in 2022
Wherever you are in the UK or beyond, there are plenty of ways to get involved with the Queen's Jubilee celebrations. From nationwide events to themed days at your school, there are lots of ways to celebrate this bank holiday. If you are looking for Platinum Jubilee ideas, look no further.
Public Events to Celebrate the Queen's Jubilee
From the 2nd to the 5th of June there will be a range of public events to ring in the Queen's Platinum Jubilee. From thousands of lit beacons to the big Jubilee Lunch, there is plenty to get involved with.
Public events kick off on the 2nd June with the Queen's birthday parade which will include a RAF fly-past, over 14,00 parading soldiers, 400 musicians and more and will be watched by members of the royal family from the Buckingham Palace balcony.
The Platinum Jubilee beacons will also be lit on this day with over 1,500 beacons throughout the UK, Channel Islands, Isle of Man and UK Overseas Territories with the first beacon being lit in a special ceremony at Buckingham Palace. This will mark the first time beacons will also be lit in the capital cities of the Commonwealth to celebrate the Jubilee.
The 3rd June will play host to a special service of thanksgiving at St Paul's Cathedral with further events for the day to be confirmed closer to the time. Throughout the bank holiday weekend 2022 there will be a Derby at Epsom Downs attended by Her Majesty the Queen and fellow members of the royal family followed by one of the biggest events of the Platinum Jubilee, the Platinum Palace at Buckingham Palace. For this star-studded event, members of the public will be able to apply to attend a live concert at the palace.
The Big Jubilee Lunch
Bring together friends family and neighbours for the Big Jubilee Lunch on Sunday 5th June to celebrate the Queen's Platinum Jubilee. Think afternoon teas, party hats, music and more as you get together with your community on the big day. You can get a free started pack over on the Big Jubilee Lunch website to get you started with ideas or just get together for a garden party with family. However you want to celebrate the Big Lunch for the Queen's Platinum Jubilee, the day is sure to be a fun one. There will also be a Platinum Jubilee Pageant on Sunday 5th June with a celebration of arts and culture with a 'river of hope' with silk flags processing down The Mall and more.
What Other Events Are Happening for the Diamond Jubilee?
The Queen's Green Canopy is a 2022 initiative to plant trees across the UK to celebrate Queen Elizabeth's 70 years of service with every tree being recorded on a digital Queen's Green Canopy and protecting 70 ancient trees and woodlands in the UK. Events will also take place for local residents on the Queen's private estates of Sandringham and Balmoral as well as special displays marking significant royal occasions at royal residences. For those who love a sweet treat, the Platinum Pudding Competition will be an opportunity to submit your perfect Platinum Pudding recipe. This will then be served up at Big Jubilee Lunches during the weekend. Platinum Jubilee medals will also be awarded to frontline workers. You can find out more about the nationwide Jubilee events on the royal website.
Throw Your Own Platinum Jubilee Event
Whether you are planning on closing the whole street off for a street party, running a jubilee event at your school or holding a coffee morning at work, there are plenty of ways to celebrate the Platinum Jubilee.
Celebrate With Friends, Family and Neighbours
However big or small your want your event to be, the Queen's Platinum Jubilee is the perfect time for a party. The Big Jubilee Lunch looks to be a big event this year with parties happening across the UK and plenty of ideas to get you started. Whether you arrange for a road closure to take your street party out on the road or just agree to take a drink and a snack outside of your front doors at a set time, there are lots of ways to hold your own Jubilee street party. If you would rather keep it to just close friends and family, why not hold a Jubilee-themed garden party complete with Jubilee-themed party wear. You could even create your own Jubilee invitations using the official emblem from the Royal website.
Celebrate a School Event for the Jubilee
If you are a school or educational institution, a Platinum Jubilee themed day could be the perfect way to introduce history and culture in a fun way into your school day. We've created a special Platinum Jubilee Badge to celebrate the milestone that is perfect for Jubilee events and we can even help you design your own Platinum Jubilee badges based on student designs or incorporating your school or college's logo.
Celebrate The Queen's Platinum Jubilee in Your Workplace
Everyone can get involved in the 2022 Jubilee, even in the workplace. Whether you decide to hold a coffee morning or a jubilee-themed cake sale, you'll be able to get involved in the Jubilee celebrations. Put up some bunting and decorations and get everyone together to celebrate 70 years of service from the Queen.
Queen's Platinum Jubilee Memorabilia
Of course, no Platinum Jubilee celebrations would be complete without themed memorabilia. From Jubilee mugs to Platinum Jubilee bunting, you'll find plenty of Platinum Jubilee memorabilia to bring your event to life. Why not design your own Queen's Jubilee decorations and party favours using the colours of the Jubilee? You'll find the printable emblem online free to print onto posters, invitations, t-shirts, badges and more so make your event one-of-a-kind.
Bespoke Platinum Jubilee Badges from Badges Plus
If you are looking for bespoke badges to use at your Jubilee event, take a look at Badges Plus. We have a standard range of Purple Platinum Jubilee plastic button badges in packs of 25, the perfect size for events. We can also create a personalised Platinum Jubilee badge featuring your chosen logo, school name and more.
To find out more about our Jubilee badges and more, contact our team online or by calling 0121 236 1612.
Back To Blog