Choosing the Right Badge Shape - Our Badge Types
Posted By Badges Plus | 04.02.2021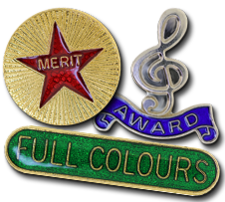 When it comes to choosing the right badge type for you, there are a world of choices to choose from. From shield badges to round badges to bar badges and everything in between. No matter what type of badge you are looking for we have a range of options to find the perfect badge for you and your organisation.
What Type of Badge Shape is for you?
From shield badges to fun badges in all sorts of wacky designs, there are plenty of badge shapes to choose from for your new badge purchase. The shape of your badge will depend on a few things such as the purpose of your badge, for example, is the badge for a school or is it for a workplace or event?
Shield Badges
Whether you are looking for a school prefect badge or a shield badge for a sports team or rewards system, shield badges offer a wealth of colours and designs for every need. If you are looking for a versatile badge for academics or clubs, shield badges are an ideal solution. At Badges Plus we offer a wide selection of shield badges from prefect badges to house captain badges to small enamelled shield badges ready for personalisation. Take a look at our shield collection here.
Round Badges
Round badges are an ideal badge type for everything from rewarding good behaviour to encouraging recycling habits. Whatever colour or style you are looking for, our range of round badges has something to suit, we can produce your round badges in a variety of finishes with bespoke badge options available. Round edges are ideal for personalising with your company or school colours and a brilliant way to encourage habits as well as identify club or team members. Why not use a bespoke round badge to represent your organisation at events or in daily life with a conversation-starter pinned to your lapel?
Bar Badges
From subject badges to house captain badges, bar badges are the perfect solution for text-based badges and can be purchased in a range of colours and styles to suit your needs. As one of the most commonplace forms of badges for schools, you'll find bar badges for everything from attendance to ICT as part of the main collection. Bar badges are also ideal for organisations and societies where member roles need to be identified such as the chairman or councillor and can be found in rounded edge bar badge and squared edge bar badge form as well as in smaller sizes for a more subtle identification form.
Badges for Fun
Whether you are looking for a fun design for your cycling club or a novelty bookworm to encourage reading, fun badges are a brilliant option when it comes to badges for any environment. Whether you are looking for a fun way to enhance learning or just looking for badges for fun, you'll find a wide range of shapes and styles in our fun badges collection.
Flag Badges
Are you looking to develop an international mindset at your school? Or perhaps you are part of an international club and want a way to represent the different countries in your group? Our flag badges are available for every flag type. Our range of flag badges come in large or small sizes for convenience and have been designed to be safe for all age groups.
At Badges Plus we stock a standard range of flag badges including U.S.A flag badges, Union Jack flag badges, Wales flag badges and more but if you can't find the flag badge you are looking for, simply contact the team and arrange for a bespoke flag badge using our personalised service.
Looking for the perfect badge? Why not take a look at our wide badge selection here or create your own bespoke badges here. To find out more, contact us now to talk to our team.
Back To Blog