Creating Custom ID Badges That Work for Your Business
Posted By Badges Plus | 14.09.2020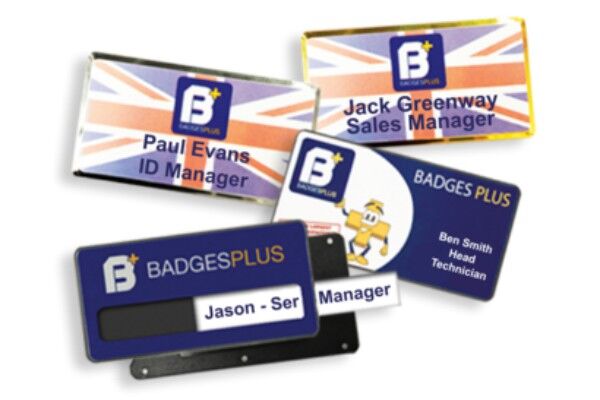 Your company's ID badges are an important way for both customers and staff to identify one another quickly and easily. Professional-looking ID badges can boost your business's appearance and act as an extension of your brand. If you are thinking of creating custom ID badges for your business, why not take a look at our top tips for creating custom ID badges that will work for your business and stand out from the crowd.
Keep Your Custom Badges On-Brand
When creating your custom ID badges, whether creating ID badges online or sharing your ideas in person, you should make sure that whatever you decide will stay on-brand for your company. Many companies typically have set colours or fonts that they use when promoting themselves as a business. When creating your custom ID badge, you should ensure that these are also used within the design. This ensures that anyone looking at your ID badges will immediately associate them with your company or brand. Another important element of your ID badges should be your company's logo. Although it doesn't need to take over the whole badge, having your company's logo on your custom ID badges reinforces your brand image and lets customers know staff members are available to help and allows your to know instantly when those entering a building are part of your company's team.
Keep it Simple
Whilst it might be tempting to let your creativity run completely wild when creating your custom ID badges, particularly if you are designing ID cards for a fun event or company working with children, be sure to avoid creating too much fuss and clutter on your ID badge. Although it can be fun, the purpose of your ID badge is to identify the wearer, if your custom ID badges are too complicated, the information will be difficult to find. When looking at the badge, both customers and fellow staff members should be able to find the information they are looking for at just a glace to avoid embarrassment or confusion. Clean, crisp lines and colours will ensure a clear ID badge and happy customers and staff members.
Mix it Up
However, just because your custom ID cards need to be clear and on-brand, doesn't mean that you can't add a bit of variation to your custom ID badges. If you are a larger organisation, you may decide to have different types of ID badges to differentiate between different departments of business areas at a glance. This could be done by using different block colours for different departments, or perhaps using different shaped badges for different areas. For example, if your company has both warehouse and shop floor staff, you may want to change the design of your employee ID badges slightly to show this difference so that it is clear where everyone should be working.
Pay Attention to What Your Company Needs
Are you looking for classic ID badges with a magnetic fitting? How about modern oval-shaped ID badges with a brooch pin? Perhaps you are a more high-end company looking to design custom luxury ID badges hand-finished by jewellers? Take a minute to think about what type of custom ID badge your company is looking for, and what the needs of your business dictate. Whatever you need, the team at Badges Plus has the ID badge to suit you. We can even create reusable custom ID badges with interchangeable names for businesses who are looking for a cost-effective option for frequently changing teams.
Here at Badges Plus, we have everything you need to create your perfect custom ID badges. With free design artwork and competitive prices, we can create your personalised ID badges in-house in our UK-based factory. Why not take a look at our custom ID badge options now? Or, get in touch with our team to find out more and discuss the best ID badge options for your business. Alternatively, our branded lanyards are perfect for attaching ID cards to for visitors or staff members who would prefer a lanyard to an ID badge
Back To Blog