Custom 3D Badges from Badges Plus
Posted By Badges Plus | 30.07.2021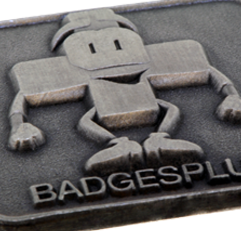 Custom badges are a fantastic way to let your imagination go wild with design options and fun ways to use your badges. Whether you are looking for badges for your business, badges for charity or badges for schools or educational settings, 3D badges can add that extra flair to your fun badge designs.
Bespoke 3D Badges
Completely uniquely made for each and every customer, custom 3d badges from Badges Plus allow you to really make your mark upon your badge design with a free design service to ensure your badge making experience is exactly what you wanted. Bespoke 3D badges are custom created using time-honed techniques and innovative design with a range of custom badge options to choose from to make your badge really unique.
What Are the Options When it Comes to 3D Badge Creation?
If you are looking for unique badges that really stand out, we have a range of badge options to choose from to really bring your badge design to life. Your custom 3D badges can be cast in zinc or pewter depending on your preference or even stamped in copper for a striking effect. We also offer the ability to create an antique finish to really highlight the main focal points of your badge design. Our in-house Birmingham premises takes care of every stage of your badge creation to ensure the highest level of quality with expert craftsmen able to offer a wide range of techniques, styles and finishes to make your bespoke badge unique.
Why Choose 3D Badges Over Standard Badges?
By choosing 3D badge design over flatter engraved badges or other 2D badge styles, you can allow your badge design to really come to life with a one-of-a-kind appearance. 3D design is uniquely eye-catching with the ability to create stand-out focal points that would otherwise blend into the design of a flatter badge. By making your badge 3D you will be able to simplify the colour scheme of your badge design and even have one colour throughout with the 3D raised badges design pulling out the elements of your design without the need for excessive colour which can give your badge a professional look, particularly useful if you are creating your badge for business or other professional events.
For those creating badges for schools or charities who are looking for a fun design to add a bit of life to your custom badges, 3D badges will allow you create a custom shape for your badges and allow you to push the limits of your badge design even further. If your company or organisation has a mascot, like our Badges Plus character, for example, 3D badges can allow you to create a 3D effect that pulls out the form of your mascot to impressive effect along with the name of your organisation. This can be printed onto a choice of badge materials for complete customisation for a fun and quirky or stylish and professional finish depending on the purpose of your bespoke badges.
Free Badge Design Services That Match Your Ideas and Budget
When you choose Badges Plus for your 3D badge design, you'll discover a professional service that offers more than your average badge production. Our in-house design team can work with your ideas to create a unique badge design that works for you, whether you already have a detailed drawing of what you would like your badge to look like or just have a few ideas about the general design. We have worked with companies, organisations and educational institutions of all sizes and across all industries to create the perfect badge design. You'll have access to all of the fantastic colours we offer with our flat badge designs as well as the ability to cast your design in simple zinc, pewter or stamped copper for complete freedom of design to fit your ideas and budget.
If you are ready to get started creating your 3D badges, contact the team at Badges Plus to find out more about our badge design service. Contact us online or by calling now or see our bespoke 3D badges page to find out more
Back To Blog