Custom Car Badges: Gifts for Petrolheads That Will Send Their Hearts Racing!
Posted By Badges Plus | 13.12.2022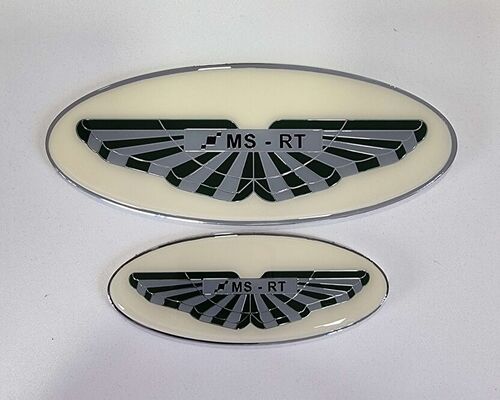 Whether it's a car, a motorbike or a scooter, we can help the petrol head in your life beautify their beloved vehicle with an automotive badge from Badges Plus. We create custom car badges that make great gifts for caravan owners, white van men, truckers, bikers or anyone who loves their motor vehicle. From our Birmingham base, our in-house design team will help you create a custom-made vehicle badge like a Mercedes grill badge or a Harley tank badge that will make an awesome birthday present or festive gift.


Gifts for Campervan Owners
For those keen campervan connoisseurs, why not help them show love to their VW campervan with a custom-made VW camper front badge? Everyone loves a Volkswagen campervan and nothing makes a beloved vehicle more desirable than a touch of personalisation. Get a custom VW badge for the grill or a VW camper van badge for the interior to make the perfect campervan gift.
Gifts for Motorbike Lovers
If you're looking for motorbike enthusiast gifts, look no further than a custom motorcycle tank badge. Whatever motorcycle make, the biker in your life will love a personalised motorbike badge. From Honda motorcycle tank badges to Harley Davidson tank badges you can get custom motorcycle tank badges for the perfect bespoke gift.
Gifts for Scooter Lovers
Seasoned owners of vintage scooters from classic brands like Vespa and Lambretta will certainly appreciate a chance to make their scooters stand out. When it comes to gifts for Vespa lovers, giving a Vespa side panel badge to jazz up their scooter will be one to remember. Let Badges Plus help you to design custom-made scooter badges like Lambretta legshield badges for a one-of-a-kind gift that any scooter enthusiast will adore.

Gifts for Car Lovers
When it comes to car accessories, a customised car badge from Badges Plus sits high on the list of unique gifts for car owners, custom car grill badges like BMW badges and Audi badges add an extra touch of luxury to a beloved car. Whether you choose a subtle bespoke car badge like an engine badge or make a statement with a personalised bonnet badge, the petrolhead in your life will love adorning their car in style.
Custom Car Badges for All
Car badges from Badges Plus make great petrolhead accessories and are proudly designed and manufactured in the UK. We make all car badges to order and our creative team will help you to create a customised car badge that will make the perfect gift. If you need a caravan badge or a custom car logo as a last-minute present, we can provide a fast turnaround time to make sure you get to deliver your petrolhead gift on time.
Whether it's a Christmas gift, birthday present, anniversary gift, or something to congratulate a new car owner, a custom car badge from Badges Plus is the perfect way to drive a motor fanatic crazy with excitement. We are the UK's leading badge manufacturer and our Birmingham-based factory is where we create a range of bespoke products from car badges to pin badges for car fanatics.
If you're interested in creating the perfect petrolhead gift, contact our in-house team of designers who are happy to help.
Back To Blog
Click on an image to view full size