Custom Coins from Badges Plus
Posted By Badges Plus | 12.11.2020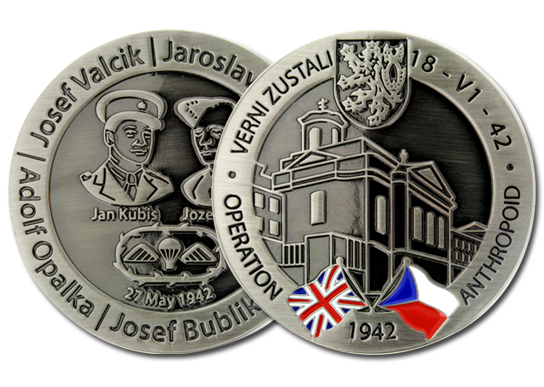 From special occasions to club events to school rewards, custom coins are a fantastic way to add a touch of personalisation to a unique memento. Our custom coins are made in the UK by our skilled tradesmen at Badges Plus. With a free bespoke coin design service and competitive prices, you really won't find a better place to get your one-of-a-kind coins created. From our custom commemorative coins to our custom military coins, here is what makes our bespoke coins unique and how we can create the perfect coin for your needs.
Our Free Custom Coin Design Service
If you are looking for a one-of-a-kind coin design for your event or occasion, our skilled in-house design team can help you bring your ideas to life. We'll discuss the bespoke coin creation process in detail to help fuel your ideas and provide a free design for your custom coin based on your needs and ideas. No matter how big or small your idea, our bespoke coin design service is here to help, with a skilled team ready and waiting to bring your design to life.
Incredible Bespoke Coin Finishes
We are experts in traditional coining methods and can create fantastic finishes using die stamping or casting methods for a superior finish. We can even laser engrave your coins with our state-of-the-art laser etching machine to produce intricate designs and details on your custom commemorative coins. We have a wide choice of materials and metals for use to create your custom engraved coins so the choice is yours.
Custom Challenge Coins
Whether you are looking for a custom challenge coin to commemorate a sporting challenge or chess tournament, we have the skills and design know-how to produce something truly unique. Custom challenge coins are a fantastic way to reward completion of challenges whether for charity or fun and a brilliant keepsake of the challenge for participants to take home. Our team can help bring your ideas to life to create an iconic custom made coin to encapsulate the atmosphere of your event or challenge.
Custom Military Coins
Our team at Badge Plus have long produced custom military coins for a range of organisations and services as well as individuals looking for something to remember with. We'll work with you or your organisation to discover your ideas for a custom military coin and produce a superior finish with outstanding attention to detail in-house to maintain our high standards. Whether you are looking for a commemorative remembrance coin or a custom military coin for your unit, we have the skills and tools to fit.
Personalised Coins
Our personalised coins are perfect for individuals wanting a one-of-a-kind custom coin for their own collections or to commemorate a special occasion such as a birth, wedding, birthday or other special event or even just because. We offer a range of finishes from our custom silver coins to our superior custom engraved coins for outstanding detail so you know your personalised coin will impress for years to come.
Whether you are an organisation, school, individual or club looking for a custom coin, our team at Badges Plus has the skills and tools needed to produce a high-quality coin that fits your needs. Get started creating your custom coins online now and receive a winning quote from us.
Alternatively, get in touch online or call 0121 236 1612 to find out more about what our team can do for you
Back To Blog