Custom Lanyards from Badges Plus
Posted By Badges Plus | 20.10.2021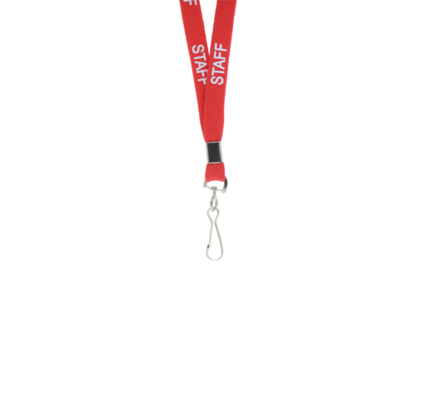 Custom lanyards are the perfect tool for promoting your business, keeping your building secure or marking out different staff members. Badges Plus are experts in all things lanyards and personalised name tags so have just the tools to help bring your lanyard design ideas to life.
Why Use Custom Lanyards?
When it comes to using custom lanyards for your company or educational institution, there are a range of benefits. From workplace security to easy identification of team areas, lanyards have a wealth of uses.
If you work in or with a schools or college, we know that security is key. Whilst some staff ID badges are fitted to badges, sometimes it is easier or more convenient to attach the staff ID badge to a lanyard. This is particularly convenient when visitors arrive at the school as custom lanyards can be created to mark out visitors to the buildings for ease.
Offices and other workplaces on the other hand may find it useful to create bespoke lanyards in order to denote work areas, for example, a different colour for staff members who work in different parts of the building to ensure people are where they are supposed to be without lengthy explanations.

What Types of Custom Lanyards Are There?
Whatever your ideas are for your custom lanyards, there are plenty of choices to choose from with bespoke lanyards from Badges Plus. We provide a wide range of colours to choose from as your base and complete personalisation when it comes to your bespoke lanyard design. You'll also be able to choose from a wide range of lanyard materials to fit your needs as well as lanyard size. Whatever you will be using your lanyards for, we have a selection of clips and other attachments that can be fitted to your bespoke lanyards to hold ID cards and more.
Can I Customise Lanyards With My Company Logo?
The great news about creating bespoke lanyards with Badges Plus is that they can be completely unique to your and your business. Branded lanyards can be created using your business logo or design to match in with your company or school's branding seamlessly. Our in-house design service can help with any questions you may have about lanyard design or you can simply send us your logo and preferences and we will get to work creating your personalised lanyards. Whether you are looking for personalised lanyards for teachers or custom key lanyards for business security, our experienced professionals are here to help.
Custom Lanyards From Badges Plus
We've been creating branded lanyards for schools and businesses alike for a number of years so are well versed in creating practical yet eye-catching lanyards for a range of purposes. We offer an express service for those last minute orders and a range of personalised services to ensure your lanyards are just as you picture them, when you need them.
To find out more about our bespoke lanyard service, contact our team now online or by calling 0121 236 1612.
Back To Blog