Encourage a Green Mindset in Your School with our Eco Warrior Badges
Posted By Badges Plus | 09.11.2020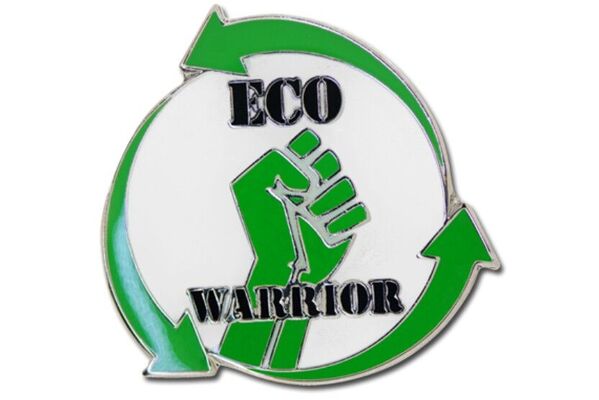 Protecting the environment is important now more than ever with the younger generation being the focus for renewable energy resources and recycling. If you are looking for a way to encourage environmental awareness in your school, creating a team of eco-warriors and using our recycling badges and eco warrior badges to help promote a green ethos is a fantastic way to encourage going green in your school.
Eco Warrior Badges for For Eco Champions and Recycling Champions
If your school has an organisation dedicated to recycling or helping the environment, or if you would like to set up a club dedicated to all things environment, our Eco Club badges are the perfect place to start. Reward students who have excelled in their efforts to go green or have a badge that marks out a recycling monitor, there are plenty of ways to have fun with our wide range of eco-warrior badges. If recycling at school is your focus, our Eco Recycle Champion badges are enamelled for toughness and are a great recycling badge incentive whilst our plastic recycling badge offers a cheaper alternative, just remember to reuse and recycle it!
With an increasing number of schools building eco councils to educate students on issues such as climate change and recycling issues, our traditional eco committee and eco council badges come in traditional rounded edge bar badge form to fit with your school's house and subject badges. For those wanting something a bit different, however, our Eco Warrior badge offers fantastic design for future climate savers and is the perfect reward for students who go the extra mile when learning and teaching about climate change and the environment.
Encourage Students to Go Green with our Go Green Badges
Looking for simple messaging to teach your students the importance of protecting the environment? Our Go Green badges are the perfect tool to use within your school to educate students on your school's efforts to go green and act as an incentive to join in with green activities your school may be running. They are also a great, simple badge to use as an eco council badge with our Go Green badges coming in plain green with text or earth form.
Develop Green Habits with Cycling Badges and Environmental Prefect Badges
If you are seeking to encourage lasting green habits with your students, a cycle to school scheme or club are perfect ways to cut down on the emissions created by students travelling to school and to raise awareness on how different transport methods can affect the environment. A reward or prize is a great way to reward students who get involved with things such as medals, special coins and more perfect ways to say 'well done' to those students changing their habits to go green. Our cycling badges are also a popular way to reward students for being part of a club or cycling to school and come in a fun design to stand out against the usual style of school badge.
Alternatively, why not make it official and create a team of Environmental Prefects at your school? Monitoring things such as class recycling and usage of lights and power, creating a dedicated role helps give a purpose and recognition to students doing their bit to help their school go green. Our Environmental Prefect badges are created exactly for this reason to help give students helping their school become more environmentally friendly the recognition they deserve.

If you are looking for ways to encourage your school to go green, why not take a look at our badges for schools to see what we can do for you? Alternatively, find our Eco Warrior badges or Go Green badges online now.
Back To Blog