Everything You Need to Celebrate King Charles III's Coronation
Posted By Badges Plus | 25.04.2023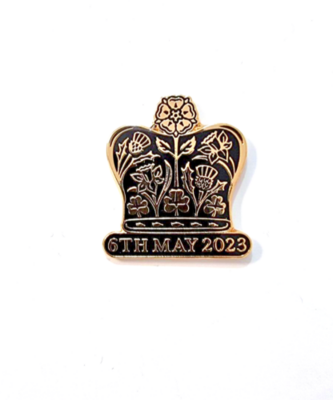 This May, we'll be celebrating the coronation of King Charles III and Queen Camilla. If you want to get involved and don't know where to start with the festivities, our guide is here to help. We've pulled together everything you need to know about the coronation and our top ways to celebrate including our commemorative coronation pin badges to mark the once-in-a-lifetime occasion.
When is the Coronation?
King Charles II's coronation will be held on Saturday 6th May 2023. However, the events won't be limited to one day and there are a number of national events happening to mark the occasion including a coronation concert and 'Big Lunch' held on the Sunday and a 'Big Help Out' on the Monday. There will be a bank holiday for the coronation on Monday 8th May to mark the occasion.
What is Happening for the Coronation?
This year, the coronation will be celebrated through a number of different events to ensure everyone has the chance to take part. On Saturday 6th May, the official coronation will take place at Westminster Abbey after a procession from Buckingham Palace. The historic event will be televised and be conducted by the Archbishop of Canterbury. After the traditional coronation ceremony has taken place, there will be a coronation procession back to Buckingham Palace ending in an appearance on the balcony by members of the Royal Family.
On Sunday 7th May, the nation will join together to celebrate with a Coronation concert and 'The Big Lunch'. You can find out more about The Big Lunch on their website here and it is expected that a number of areas will be holding their own street parties to celebrate.
In recognition of their Royal Highnesses' work for charities and community development, The Big Help Out will take place on Monday 8th May to coincide with the Coronation Bank Holiday. This event hopes to encourage people to give back to their local communities and those in need through volunteering.
How to Celebrate the Coronation
There are plenty of ways to celebrate King Charles' coronation across the coronation weekend, Whether you are planning on an afternoon tea for two as you watch the service from home or planning on holding your own street party, we've got lots of ideas to help get you started.
Planning a Street Party
If you are planning apart in honour of the coronation, why not make it a street party and get all of the neighbours involved? Check out the official government guide to planning a street party. Be sure to knock on neighbours' doors in advance to let them know of your plans and invite them to the big day, even pulling up a deckchair on your drive to celebrate with neighbours can be great fun. The Big Lunch guide has everything you might need for planning to take part.
Mark the Occasion
Celebrating a royal occasion wouldn't be complete without decorations and mementoes. Our King Charles Coronation Badges are the perfect way to show your respect on the big day and make brilliant party favours whether you are throwing a street party, organising an event at your school or holding an afternoon tea for family members. Alternatively, our Union Jack badges are the perfect subtle way to celebrate that can be reused for future events.
Make Decorations for the Coronation
If you are throwing a coronation party or street party for the coronation, themed decorations are a must. Why not pay homage to a royal who is passionate about sustainability with some home made decorations? The BBC has a great guide to making your own bunting from old scraps of material or bought colour swatches. For sewing fans, making a commemorative quilt or table cloth could be a great way to mark the occasion. The official coronation website has a fun downloadable template for making your own invitations and decorations along with other fun printable coronation activities for children. Paper crowns are always a fun addition to a royal event.
Looking for Something Else?
At Badges Plus, we are proud to be British-based manufacturers of badges and other bespoke merchandise. Take a look at our Coronation badge collection here or find out more about our bespoke products by contacting our team.
Back To Blog