Everything You Need to Know About Shield Badges
Posted By Badges Plus | 03.10.2023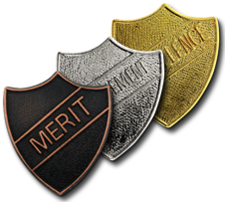 Shield badges have long been used as a marker of position and reward within schools. At Badges Plus, as the UK's leading badge manufacturer, we manufacture a wide range of shield badges from metal merit shield badges to small plain enamelled shield badges. We've pulled together a complete guide to shield badges with Badges Plus including the wide range of styles available as well as some ideas for shield badge usage.
What is a Shield Badge?
A shield badge is one of the most common types of school badge. As the name suggests, it is created in the shape of a shield and can be metal or enamel, plain or with text, such as that used for prefect badges, on it. Shield badges can be used to represent success or achievements, signify a position such as head boy or girl or even to represent a group or subject.
What Are Shield Badges Used For?
Shield badges can be used for all sorts of things within schools and beyond. One of the most popular uses of shield badges is for school prefects, head girls or boys or to show that the wearer is part of the school council. Some other popular uses could include subject representatives, for those students who go above and beyond in a subject. Shield badges of different colours could also be used to represent different sports teams in a school or as part of a local club.
For those schools looking for a way to reward achievements such as hard work, 100% attendance or high scores, merit shield badges are a fantastic physical reward which students will enjoy showing off fasted to their lapel or sweatshirt. If your school has a more unusual or unique rewards system, personalised shield badges or custom shield badges could be the perfect solution meaning there is no limit to the fun you can have with rewarding achievements.
What Type of Shield Badges Are There?
Shield badges typically take the form of a metal pin badge with a safety pin backing. Badges Plus supplies two main types of shield pin badges. These include enamel pin badges and metal pin badges, each with its own unique look and characteristics.
Metal shield badges for school can be created in gold, silver or bronze and our standard range includes merit shield badges, excellence shield badges, achievement shield badges and commendation shield badges to form a fantastic school reward system.
With enamel school badges, there comes slightly more choice in terms of colours. Enamel shield badges can be created in a huge range of designs including for prefect badges sports captain badges and more. Enamel school badges can be created in a choice of red, yellow, blue, green, purple, white, pink and a whole host of other coloured shield badges. In addition to this, Badges Plus also offer a striped enamel shield badge option for prefect badges for a unique look.
Shield Badges From Badges Plus
Badges Plus are the UK's leading shield badge manufacturer and stock both a standard range of shield badges for schools as well as the ability to design your own shield badge through our bespoke service. If you have an idea for a shield badge you can't find on our website, a bespoke shield badge could be the perfect fit and is suitable for schools, businesses and charities alike.
To explore our range of shield badges, take a look at our shield badge collection here. Alternatively, contact the team at Badges Plus to find out more about how we can create your perfect shield badge.
Back To Blog