Staff Name Badges for Every Business
Posted By Badges Plus | 23.03.2021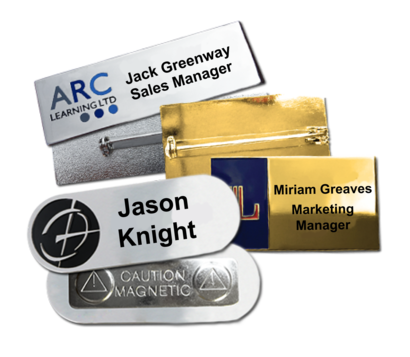 Whether you work in the automotive industry or in a salon, staff ID badges are an integral part of customer and staff interaction. A staff ID badge can act as a first introduction or distinguish roles, company sections and more with a range of designs available to put your company's mark on the ID badge.
Bespoke Staff ID Badges
From shop floor assistance to getting to know colleagues in-office, bespoke staff name badges allow you to create a name badge for each of your staff members for a completely personal touch. Bespoke staff name badges are ideal for identifying team members at all times and are perfect for higher-security situations, such as those working with children where staff members need to be easily and quickly identified at all times.
Choosing your Staff ID Badges
Whether you are looking for standard staff ID badges, luxury magnetic staff name badges or bespoke shaped staff ID badges, there are a world of options to choose from when it comes to buying name badges for your business. Many businesses and organisations find that the standard rectangle staff name badges are perfectly suited to their needs whilst organisations such as children's charities find that a fun, shaped staff name badge adds a bit of interest and connects with those they work with easier. Whatever your company style, there is a badge to match.
How to Make Unique Staff Name Badges
We know that your team's name badges should be as unique as you are as a company, that's why we offer such a wide variety of colours, styles and finishes to really put across your organisation's personality. Some of our top tips for creating unique staff name badges include thinking outside of the box in terms of shape and injecting a sense of your brand's personality in terms of colour and a featured logo. Your staff name badges of course also have to be practical, so make sure you leave enough space for your staff names to be clearly and easily read.
Create a Blank Custom Staff Name Badge for Visitors
If your business or organisation has frequent visitors or a constantly changing workforce, blank staff ID badges are a simple yet effective solution. You'll be able to add your company's colours and logo with a space left for a name to be added when needed. Simply slide in the name of your visitor or staff member for a reusable alternative to pre-made staff name badges.
A Choice of Custom Staff Name Badges
If you are looking for bespoke staff name badges for your business or organisation, take a look at our wide selection of custom ID badge options here at Badges Plus. We can create your ideal staff badge in a range of shapes, sizes and colours with a selection of finishes to suit your staff name badge needs. View our staff ID badge services page here now or get in touch to find out more.
Back To Blog