The Perfect Award Badges for Winners
Posted By Badges Plus | 14.12.2017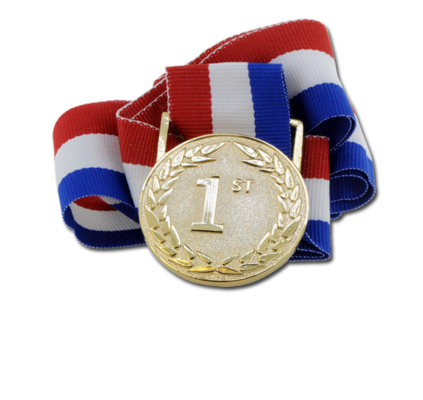 When someone works hard and perhaps wins a competition, they deserve to be rewarded with something special. Whether it is a bar badge, shaped badge or a medal, Badges Plus has a great range of awards that you can use for celebrating your victors.
There is no excuse for the lack of reward: with us you can get award badges at an affordable price. Achievement is at the centre of Badges Plus, because we know how well a good badge can work in awarding achievement. So, if you want quality and affordability in one, look no further! But what do we have to offer? Let's see…
Rosette Badges
The rosette badge is a classic, but it is always a winning award badge. The rosette ribbon is a great item to receive after your victory, but a rosette badge is even better because it won't rip or break like the ribbon might - they are a long-lasting reward. Our rosette badge comes in gold rosettes (first place), silver rosettes (second place), and bronze rosettes (third place). No matter your position, you will be suitably awarded for your achievements.
Our rosette badge is 35mmx15mm and striking to behold. When your competitors see what award is up for grabs, you'll have them all striving to achieve their very best in order to win it.
Bar Badges
Our bar badge collection has an array of designs for each of the needs you may have. Featuring full colours badges, captain badges, merit badges, prefect badges, and many more. This means that the leaders and high achievers can wear a bar badge that is well-suited to their area of achievement.
Our selection comes in small, large, square and round edged badges. They may be simplistic but they give a real sense of authority to the wearer, as they come in a variety of colours and are written in gold lettering.
Shield Badges
A shield badge can work wonders as an award badge because they are an iconic, striking badge. We have coloured enamelled shield badges, which work well for head girl/boy and captain badges. Alternatively, we have metal shield badges that are excellent for achievement awards; including the achievement badge, commendation badge, merit badge and excellence badge.
Perhaps seen as a classic option, the shield badge doesn't disappoint and is a "classic" for as reason.
Trophy Badges
You can't bring a trophy everywhere with you, but you can bring a trophy badge with you! The trophy badge makes a great alternative to an actual trophy, and will work to give the wearer a real feeling of achievement. You can get your hands on a gold trophy badge, silver trophy badge or a bronze trophy badge, ensuring to reward each winning position. The "Achiever" lettering is written in gold, and it can be backed by a variety of colours to suit.
This trophy badge will make a great award badge, because the victor is getting a striking badge and a trophy in one!
Plastic Button Badge
The plastic button badge is an affordable alternative to the metal or enamel badges that we offer. If you have great victors that deserve to be rewarded, but your budget is a bit tight, then look no further than the plastic button badge. These button badges come in various colours, while reading: merit, first, second, third, or commendation. This means that those who have demonstrated a brilliant work ethic can wear a badge that shows it. They are 25mmx25mm and just right for an affordable achievement badge.
Star & Round Badges
Our star badges and round badges are excellent awards, especially for children. We have a 3D star badge, that will really standout as a fantastic achievement badge. This is a gold star badge, silver star badge, and a bronze star badge. We also have glitter star badges, available in many colours, and the small, enamelled star badge. Whichever you choose, it will be sure to impress and encourage hard work.
Our round badges work just as well, as they feature stars in the middle, some with the words "merit" for achievement. We also have the classic but ever-popular smiley face badge. When children achieve something in schools or clubs, you can award them with an enamelled smiley badge, giving them a sense of accomplishment.
Medals
Last but definitely not least is the common medal - classic, iconic and a trusted item for achievement awards. The medal is a perfect award, making you feel like an Olympic gold winner! We offer gold medals, silver medals, and bronze medals – ensuring you can award each winning position.
So, whether you opt to give awards as shaped badges, medals, bar badges or the classic rosette badge, you won't be disappointed. We have something for everyone and every kind of achievement. Browse our range of awards here for more information.
Back To Blog