Top Tips for Custom Coin Design
Posted By Badges Plus | 05.09.2023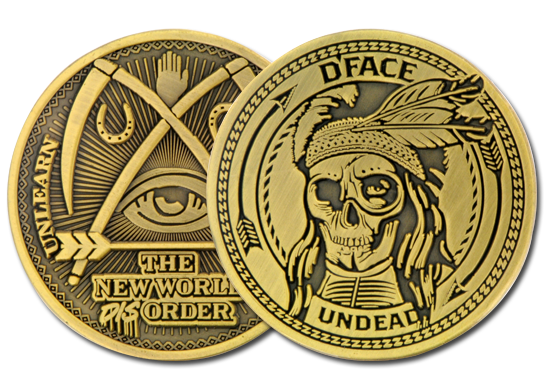 Are you thinking of designing your own challenge coin? Perhaps you are thinking of designing your own commemorative coin or one to add to a collection? If you're wondering where to start, we've pulled together our top tips for design-your-own coins and how to create the perfect custom coin design.
Planning Your Custom Coin Design
The first place to start when designing your own coin is to decide what you want from your bespoke coin and start planning how your coin design will look. It's important to get this planning stage right first before setting your custom coin creation in motion. You'll also want to look at custom coin creation specialists such as Badges Plus to find out the types of services they offer and how they can work with you to bring your coin design ideas to life.
Custom Challenge Coin Design Tips
If you are designing coins for a specific purpose, such as custom challenge coins, have a think about what you want your bespoke coin design to represent. Will there be different levels of your challenge with different designs? Will your challenge coin represent a specific sport or activity such as a running challenge coin or a hike challenge coin? Does your challenge have a specific name or branding you would like included in your design?
Custom Coin Design for Businesses, Schools or Organisations
When designing coins for business use or on behalf of a school, charity or brand, branding your coin is key. When planning your coin design, be sure to incorporate your brand name or logo into the design to make it clear who the coin is on behalf of. If you are creating reward coins for your school, for example, it may be that you would like your school's logo to be front and centre in the design.
Alternatively, you might want to add a design outline to the centre of your coin containing the theme of the reward and include the school name around the edge of the coin. Our in-house design team can help design a coin around your branding, theme or logo to keep your coin on-brand.
Choose Your Bespoke Coin Finish
We can create bespoke coins using either die stamping or casting methods, both of which create a unique effect. If you are looking for a more intricate coin design, with more curved or varied lines and detailed shapes, for example, die casting your coin might be the better option. This involves making a cast of your custom coin design before pouring porous metal into the die to form your design. Alternatively, die stamping can be used if you would like a higher quality metal without as much of an intricate design.
Call in the Experts in Coin Creation
Badges Plus is the UK's leading manufacturer of custom coins and other bespoke products. With an in-house design team ready and waiting we are perfectly placed to bring your coins to life. To find out more about our custom coins, take a look at our dedicated coin page or contact our team online or by calling 0121 236 1612 now.
Back To Blog