Unique Ways to Use Laser Engraving
Posted By Badges Plus | 07.02.2018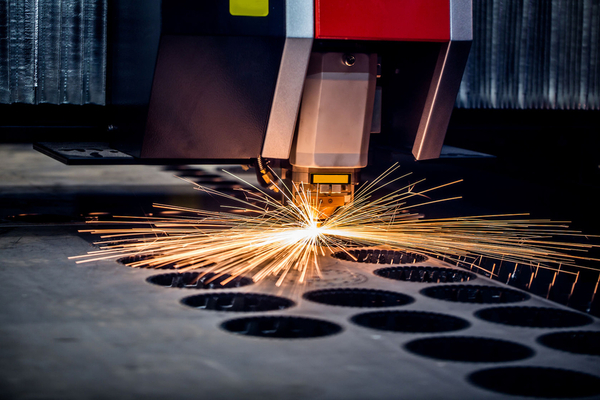 Laser engraving has been around for some years now, but its popularity has recently surged due to the high-demand in personalised gifts, bespoke memorials, unique furniture pieces and beyond.
A laser cutter users lasers to permanently carve or imprint designs or messages into items made from a range of materials. Here at Badges Plus, we have a state-of-the-art laser engraving machine, the SISMA BigSmark 400F.
We regularly provide our specialised laser etching services to individuals, schools, local businesses and worldwide organisations, to produce exciting and personalised cufflinks, badges, jewellery, trophies and engraved plaques to name a few.
Our laser engraver is extremely versatile and to demonstrate this, we thought we would show you just six of the more unique ways to use laser engraving:
Outshine Your Competition With Laser Engraved Business Cards
Quite often at networking events, wallets and purses become over saturated with business cards. Using creative laser engraved business cards is an effective way to appear a cut above the competition and stand out from the crowd. It also highlights that you pay close attention to the finer details, leaving future clients assured of your service or product. Another benefit of bespoke wood, plastic or acrylic products is longevity. The average cardboard business card is easily spoiled if liquid is spilled or it finds its way into the washing machine, whereas robust materials with personalised laser engraving don't have these troubles and could be the difference between a new client or not.
Strike A Chord With Personalised Musical Instruments
It is always a pleasure to have musical instruments under our sophisticated laser machine due to the captivating end results. Instruments often hold great importance to their owners, so it is a pleasure to engrave instruments with the musician's names, significant dates or a message from a loved one. Guitars in particular produce stunning results when they are wholly engraved with designs or patterns. We are experts in wood engraving, plastic, glass and metal engraving, meaning we can laser etch on any woodwind, string, brass or percussion instruments.
Make A Statement With Your Furniture
Yes, that's right, furniture.
Laser cut wood or laser engraving on pieces of furniture, in particular doors and grand tables, are perfect for businesses and tend to make a big impression on guests, clients and customers. Engraving your company name, logo or motto onto your door, desks or meeting tables definitely makes a statement and brings the WOW! factor to branding. Of course this isn't strictly available to businesses. You could be the creator of your family's next heirloom by wood engraving the family name onto a dining table, for example.
Build On Your Charity Donations With Engraved Bricks
Using a laser engraver to inscribe bricks is a unique product that can really draw attention to and help aid fundraising efforts. Engraved bricks are a permanent product that will last a lifetime and a little something different that you can lay in walls or floors for maximum impact. We have used our laser engraving machine to carve important names, new building openings and important dates into bricks, for use in hospitals, universities, memorials, schools and places of worship.
Make a Name for Yourself with Impressive Place Cards
Laser cut wood makes for a beautiful and original place card for meetings, conferences and especially weddings, they even double up as a unique and tasteful engraved gifts or wedding favours. Laser engravers carve from a digital image, so you can choose any font and colour in keeping with your wedding. Engraved place cards are more striking than the average cardboard name card and add a unique and personalised touch for your guests, making them truly feel part of the ceremony. Other ways to incorporate laser engraved products into your wedding are laser cut wedding invitations, engraved cutlery, centre pieces and beyond.
Play with Laser Etching on Baby Toys
Take a gift from standard to STAND-OUT by laser engraving baby blocks, toys or keepsakes with personalised details such as names, initials, arrival date and time and baby's weight. If you don't want to gift your pregnant relative or friend with a run-of-the-mill gift, take it a step further with laser engraving and make it something special that can be kept with pride for years and handed down in generations to come.
Bespoke laser engraving is the perfect way to turn everyday items or gifts into something far more personal and meaningful. Our advanced laser cutter can help convey a message to a loved one, produce stand out branding products, create a sentimental present and beyond. Get in touch with our expert laser engraving team on 0121 236 1612 and see how we can bring your designs to life!
Back To Blog