A Personal Touch with our Personalised Products
Posted By Badges Plus | 21.02.2018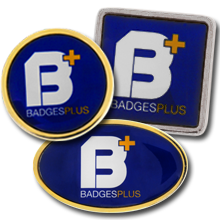 When it comes to getting the perfect item for your place of work, there is no comparison with a personalised product. When it is personalised, it means more – it achieves more. This is why we at Badges Plus not only provide an extensive range of badges, lanyards, and wristbands, but we also have a personalised section to help you get it just right for your charity, business, club or school. Check out what we have to offer in the way of bespoke products...
Personalised badges
In line with our namesake, we pride ourselves on our ability to manufacture bespoke badges to suit all needs. Whether you need a personalised Button Badge or a Metal Printed Badge, we can help you throughout the process to ensure it is just right.
We can provide you with any colour, design or size that you may need (25mm-76mm for button badges, 18mm-32mm for metal badges). We also offer gold or silver trims, or round or square metal badges. Then from there, the design is up to you! Printed or engraved, it's up to you, but with Badges Plus, you get the real personal touch to make your badges wholly yours. There's nothing more special than an engraved badge, after all.
Not only do we offer bespoke badges, we also have personalised ID badges! This means your employees or colleagues can truly feel like a part of your company with a badge that's not worn by anyone else. This is important. A company needs their own logo and design that helps them to be recognised on sight. With the right bespoke ID badge, you can achieve this. All you need to do is get in touch and we can get started on your personalised badges.
Personalised cufflinks
As if bespoke badges weren't enough, we also offer great personalised cufflinks for you to gift to someone special. We have gold circle cufflinks, silver circle cufflinks, gold square cufflinks, and silver square cufflinks. Once you've picked the trim and shape, the design is in your hands. Your loved one deserves something unique, and there's nothing more unique than a bespoke cufflinks set. Whether it is for a wedding gift, anniversary, or birthday, give them something that feels personal with our personalised cufflinks.
Personalised lanyards
In order to achieve the right atmosphere from your staff or team members, you will be happy to have bespoke lanyards for them to wear. This will mean that they will feel united as a team and be proud to wear a lanyard that actually suits the organisation appropriately.
We offer lanyards that are 15mm or 30mm in length. After you've chosen the size for you, you can then put the background (colour or logo etc) before adding whatever text is needed; easy peasy, right? These can be lanyards for ID badges, or visitor or employee lanyards; whatever the need, you can get the right one with our personalised lanyards.
Personalised wristbands
For your music or sporting events, charities, clubs, schools, or businesses, we have excellent personalised wristbands. These can really make or break an event, as they will be the symbol of the occasion. Our range includes embossed wristbands, debossed wristbands, plain wristbands, and coloured wristbands. Whatever you need to get your personal touch. All you have to do is choose the design you want, pick the colours to suit, add the text, and then we handle the rest. In no time, you will have the perfect bespoke wristband for your needs.
Personalised keyrings
Last but definitely not least, we have our personalised keyrings. These keyrings can be useful for charities, businesses for marketing, or clubs. We have gold keyrings, and silver keyrings, in a variety of shapes (oval, square, circle, rectangle) and sizes to suit your personal needs. A bespoke keyring can work wonders in providing that something special that members of a team can have to help them unite. This is why our personalised keyrings are so important to us, and should be to you, too.
So, if you need something a bit different for your keyrings, badges, lanyards, wristbands or cufflinks, then look no further than Badges Plus for personalised products. When it's personalised, it's personal to us – so trust in our helpful products team.
Back To Blog