Custom Merchandise from Badges Plus
Posted By Badges Plus | 19.08.2021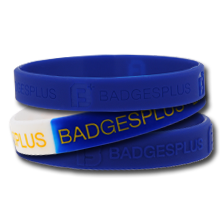 When it comes to promotional tools to help raise brand awareness for your business or charity, custom merchandise is ideal. Designing custom merch with Badges Plus is a simple way to create items that represent your brand with your own branding and colours to add a memorable touch to any marketing efforts you may undertake.
Why Create Custom Merch?
Custom merchandise such as custom wristbands or custom badges are a great way to give potential customers something to remember your brand by. Not only are they a fantastic way to entice visitors to your stall at events, they are also a great reward to give to customers as a treat that will keep your name in their mind when they are looking for the same service or product again in the future. By providing your staff members with custom merchandise such as custom tie pins or cufflinks, you'll also be able to promote your business in a more subtle way for higher-key events or meetings.
Custom Promotional Items
At Badges Plus, we provide a wide range of merchandise that can be fully personalised to fit your business needs. We can create promotional merchandise in a range of materials and finishes with an in-house design service that brings your ideas to life.
Custom Wristbands
If you are looking for a fun way to promote your business, custom wristbands can be a brilliant tool to use. At Badges Plus, we can create bespoke wristbands in a range of styles, colours and designs to spread the message of your promotion and organisation. Our wristbands can also be delivered within three weeks so are a fantastic promotional tool to use for events or brand awareness activities. Custom wristbands can be embossed or debossed with the option to add colour to the imprint to make your message stand out. They can also be created with single or multiple colours to fit your company's branding with complete customisation options for logos and more to really encapsulate your business image when being used as a promotional merchandising tool.
Custom Badges
Custom badges are ideal merch to use for any event or setting and can be fully customised for a formal or fun setting to match all ages. Whether you are looking for a subtle personalised metal badge to represent your company at industry events or fun custom badges to use as merch during customer-focussed events, Badges Plus has a wide range of options to fit, all with completely customisable badge options to find the perfect promotional badge for your organisation.
Custom Cufflinks
For custom merch that adds a touch of sophistication, custom cufflinks are ideal. Whether you are giving them to valued customers as a sign of your appreciation, wearing them to events or gifting them to staff members as a recognition of their service, custom cufflinks are a cut above the standard custom promotional merchandise. You'll be able to add your logo and branding to the cufflinks to ensure they match your organisation's branding perfectly and work as an effective promotional tool to promote your business.
Custom Keyrings
The staple of custom merchandise, custom keyrings are the perfect promotional merchandise to distribute at events to carry your name beyond the day. A usable form of brand merchandise, custom keyrings last for years as a reminder of your company or organisation's name that remains a visible way to promote your brand and can be completely personalised at Badges Plus to fit your ideas using our in-house design service and wide range of custom keyring options.
Custom Merchandise from Badges Plus
If you are looking for high-quality custom merchandise, Badges Plus are here to help with a wide range of customisable merch and an in-house design service to bring your ideas to life. Contact our team now or call 0121 236 1612 to find out more about our custom wristbands, badges, lanyards and more.
Back To Blog